Did you have already applied for a position at Red Lobster? This article covers the most asked Red Lobster interview questions, answer suggestions, and essential Red Lobster interview tips.
You'll need to know some basic information about Red Lobster before you apply or go in for your interview. Read on to get all the information you need to ace your Red Lobster interview and get hired.
Come with me to work: Spend the Day with Me at Red Lobster
Red Lobster Job Interview Questions & Answers
In this section, we'll review some of the most typical Red Lobster interview questions and give examples of how you could answer them. The answer suggestions will help you create your own original answers to the most common Red Lobster interview questions. All you need to feel confident on the day of your interview. Rehearse your answers and have them ready to go ahead of time so that you're not stumbling over your words during the actual interview.
Why do you want to work for Red Lobster?
Working at Red Lobster is more than just a job – it's an opportunity to be part of a team that is passionate about seafood and providing guests with a fantastic dining experience.
I love being around people and working in a cheerful environment, and Red Lobster is the perfect place.
From what I have learned, working here is like being part of a family at Red Lobster – everyone has each other's back.
They always work together to ensure the guests have the best possible experience.
I really appreciate the ongoing training and development opportunities that Red Lobster provides. It helps me grow as a person and a professional, and I know that I can always count on Red Lobster to help me reach my goals.
Red Lobster Server Interview Questions & Answers
What are your strongest qualities?"
This is a standard Red Lobster interview question across the board, so expect to hear it and be prepared. The answer will vary from person to person, but try to highlight qualities that lend themselves well to serving. For example, strong attention to detail, perseverance, positive thinking, and being a "people-person" are all great choices to bring up.
Try something like this: "My positive attitude allows me to push through high-stress situations and helps the morale of my coworkers."
How would you explain to a customer that we ran out of the entree they wanted?
Don't overthink this one. The interviewer wants to see that you would do these two things:
Empathetically let the customer know that the restaurant has run out of that dish for the day.
Suggest a similar entree in place of the one that isn't available.
What would you do if a guest told you they were unhappy with their meal?
I would listen to their complaint and apologize politely. Then, I would offer to have the kitchen remake the dish.
If the guests aren't satisfied, I will follow company policy for what to do in this situation, whether comping the meal or providing a free extra.
Red Lobster Host/Hostess Interview Questions & Answers
Tell me about a situation where you had to deal with an angry guest?
Your interviewer wants to see that you would empathetically listen to the customer's complains and concerns and address them carefully. 
You'll want to use a personal story that illustrates how you would take an unhappy customer and make them more satisfied. At the very least, you want the customer to feel like their complaint was heard and valued.
At my previous job, a customer was unhappy about a company policy that hadn't been clearly explained. I listened to his complaint carefully before speaking, which is essential because guests want to feel like their opinions are valued. 
I then sincerely apologized for the misunderstanding and reassured the customer that it was our fault for not clearly explaining the policy to him. I thanked him for taking the time to tell me about his experience.
What would you do if one of your coworkers had difficulty completing their assigned tasks?
I would assist them with smaller tasks until they're able to recover. For example, if they were answering the phone, rolling silverware, and seating guests alone during a slow day; and suddenly bombarded by guests and phone calls, I would relieve them of the phone or help seat the guests.
What does hospitality mean to you?
"Hospitality done right allows customers to feel like guests rather than outsiders. Guests should feel welcome and that the staff is attentive to their needs and genuinely cares about their experience."
Red Lobster Line Cook Interview Questions & Answers
What does teamwork mean to you?
Good teamwork happens when team members put their egos and personal problems aside and communicate clearly so the team can function efficiently.
If you had a personal problem with a coworker, how would you handle it?
I would put personal issues aside before coming to work. Whatever problem I may have with someone isn't worth compromising my job performance. Letting personal issues get in the way of my job will make me less productive as an employee.
What could you add to our team?
I'm very driven, and I enjoy a challenge. Working within a team in a fast-paced environment is something that I like doing – I'm a good communicator. I can help people to work together even when things get stressful.
Note: If you want interview advice for the retail industry, we recommend visiting our website's designated retail interview questions category. 
Red Lobster Job Interview Tips
Understand the Basics of Upselling
If you're applying for any front-of-house position, you should know how to upsell menu items. Upselling is an important part of a server's job. Red Lobster interview questions usually include at least one question about upselling. Red Lobster will train you to upsell if you get hired as a server. However, you should still be familiar with the basic concepts and techniques before you go into your interview.
If you have previous upselling experience from another food service or retail job, begin preparing to demonstrate an example of your upselling skills to your interviewer.
If you have never used upselling at your previous jobs, research primary menu upselling skills and be prepared to demonstrate on interview day.
What should I wear to a Red Lobster interview? Dress the Part & Arrive on Time
Be sure to arrive at your interview five to ten minutes early and dress nicely. Red Lobster front-of-house uniforms are reasonably dressy. Business casual will be a safe bet. 
When you have doubts about how appropriate your interview outfit may be, it's always better to dress up rather than dress down.
Use Positive and Confident Body Language
Red Lobster interview questions will be designed to gauge how confident you are around people and if you'll be a good fit for their team. Your interviewer will be interested in your social ability – well-spoken, positive people make the most successful servers and hosts. 
You'll need to come across as friendly, outgoing, and a team player to have the best chance of getting hired. This still applies to you if you're applying for a back-of-house position. 
Teamwork, positivity, and excellent communication make a restaurant kitchen run smoothly.
How long is a Red Lobster interview?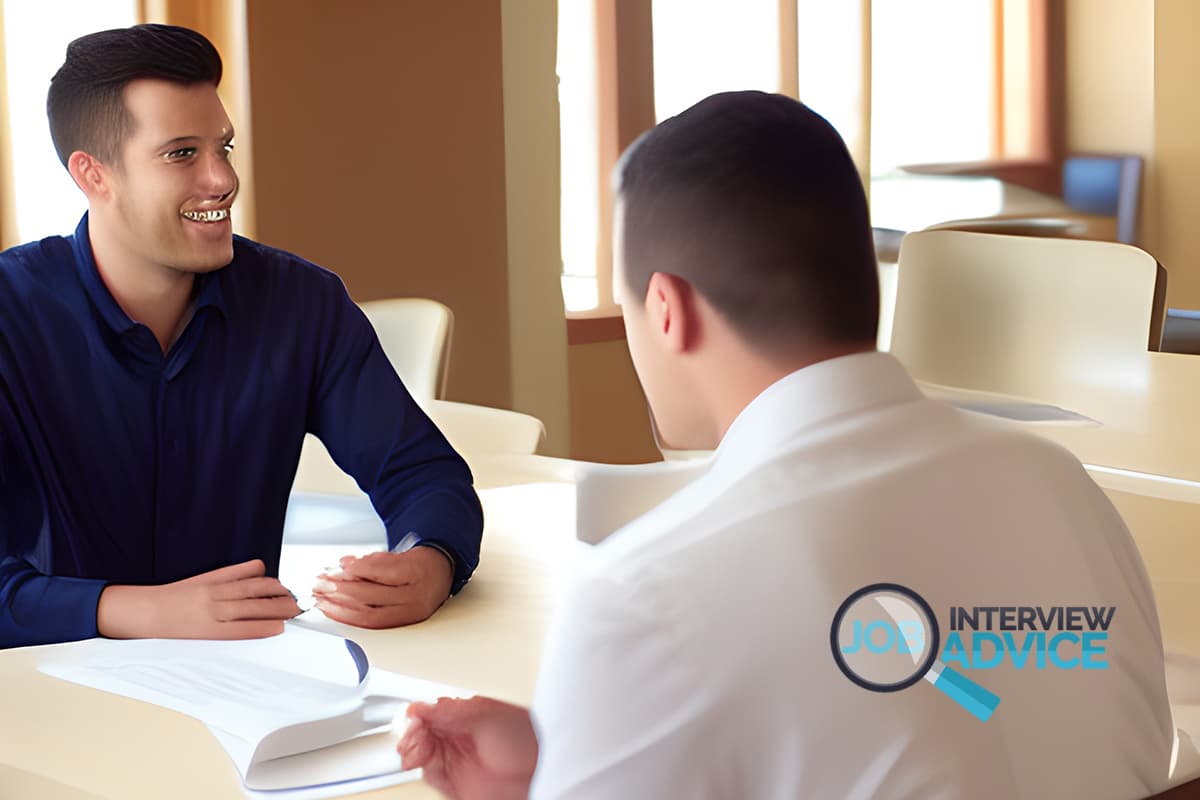 The average Red Lobster interview lasts ten to fifteen minutes. This is relatively short compared to other interviews, which can last anywhere from thirty minutes to an hour.
While the interview may be shorter, you still need to be prepared to answer various questions about your qualifications and why you would be a good fit for the position.
The interviewer will also want to know about your availability and whether you have any scheduling conflicts. Be honest and open in your responses; remember to smile and exude confidence. By following these tips, you can ace your Red Lobster interview and increase your chances of getting hired.
How many interviews does Red Lobster have?
If you're interested in working at Red Lobster, you can expect to undergo at least two interviews. The first interview will be with a member of the HR team, where you'll be asked questions about your experience and qualifications.
The second interview will involve a manager, who will assess whether you're a good fit for the role. You'll be offered the job if you're successful in both interviews.
However, you won't be hired if you don't meet the requirements of either interview. So, make sure you prepare for your interviews and showcase your skills and experience. Good luck!
How long is Red Lobster orientation?
The Red Lobster orientation is one day. Afterward, there is a training that lasts between one and two weeks. The first day is mainly to get you comfortable with the idea of working in a seafood restaurant. You'll learn about the different types of fish and shellfish Red Lobster serves, how they properly handle and cook them, and the company culture. The following days will be a mix of classroom learning and on-the-job training, where you'll shadow an experienced team member and put your new skills to the test. By the end of your training, you'll be ready to dive in and start serving up fresh seafood to the guests!
You Might Also Be Interested in the following:
Some Other Restaurant Interview Questions & Answers to Get You Started
Conclusion
Hopefully, this article helped you prepare answers to Red Lobster interview questions and better understand what your interview will be like. 
Get more information about what it's like to work at Red Lobster by visiting their Glassdoor profile. Or, check out current hourly positions available at Red Lobster. 
Do you have any additional Red Lobster interview questions or answers to add to this list? Comment below and let us know!
About Red Lobster
Red Lobster is a popular casual seafood restaurant chain that employs over 55,000 people, primarily in the U.S. and Canada. Additionally, they have locations in nine countries worldwide and seek to expand their international influence. 
Are you seeking an hourly food service job? Do you want to break into a management role? Red Lobster typically has open positions perfect for dedicated people who take pride in their work. 
Even though you may start out as a host or a server, you'll have opportunities to receive training and promotions if you push yourself and perform well. This company promotes heavily from within its ranks. In 2017, over 90% of all general managers at Red Lobster were promoted from within.
Red Lobster provides competitive benefits for its full-time employees, most notably paid vacation days, a healthcare package, a 401K plan with company match, and more. All employees receive 50% off meals during their shifts and 25% off meals outside their working hours. The hours of
operation at Red Lobster is 11 AM-11 PM.