The critical step in the application and hiring process for Pizza Hut is the ever important interview. Once you have been invited to come in for an interview, it is time to 'sell yourself' to the interviewing manager. To present yourself as the best candidate, you must go in with the right knowledge and preparation. In this article, we will look at how you can set yourself up for interviewing success.
Top 5 Pizza Hut Interview Questions and answers (video)
Things To Know About Pizza Hut Before Getting The Job

Pizza Hut is an American restaurant chain and international franchise that offers different styles of pizza along with side dishes including salad, pasta, buffalo wings, breadsticks, and garlic bread. Two brothers founded Pizza Hut in Wichita, Kansas in 1958. The brand has grown into a multinational pizzeria chain that has over 30,000 stores.
Knowing this basic information can be helpful in your interview. Knowing the name of the current CEO at the time of your interview could also be helpful. Since menus differ from store to store, learn what toppings and sides your local Pizza Hut offers. If your interviewer asks what your knowledge of the Pizza Hut franchise is, have these facts fresh in your mind.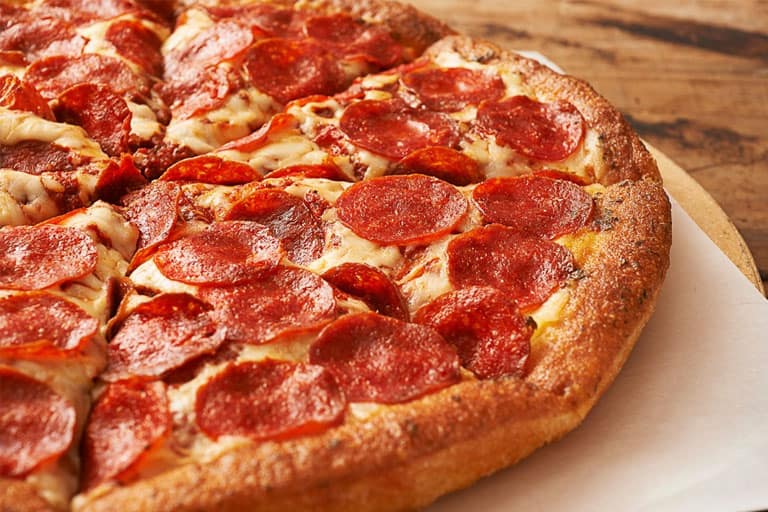 Be aware of the positions that are offered. For entry-level jobs, there are team member and delivery driver positions. Leadership positions include assistant and store manager.
Understand the daily routine on a shift. The basic elements are food prep, customer service, cash register handling, and cleaning. Managers will deal with leadership elements. Drivers are often cross-trained for general duties besides delivery.
Employees prepare dough a day in advance and keep the supply up during the workday. Dishes have to be continually cleaned and ready for use. As trash bins fill up, they have to be unloaded and hauled to the outside trash can. Employees take incoming phone calls for new orders. When closing time comes, team members begin the day's final cleanup (trash disposal, dishes, etc. as mentioned above) and then they sweep and mop.
Having an advanced knowledge of these facts can help you in the eyes of the interview staff. Let them know you did your homework and that you are interested in the job. They will take notice of your interest and eager attitude.
Common Pizza Hut Interview Questions
Every hiring manager screens candidates to gain a knowledge about their experience, skills, and fit. You can expect to hear questions that incorporate all these elements during the interview. Some general questions are:
What is your work experience?
In the next few years, where do you see yourself?
Why would you like to work for Pizza Hut?
If you are applying for a delivery position, expect to be asked these kinds of questions:
Do you currently have a reliable form of transportation?
Do you have a clean driving record?
Do you have a valid driver's license, registration, and proof of insurance?
Managerial candidates will be asked questions such as:
Would you consider yourself a leader?
Could you give examples of effective leadership and management from your past?
Do you have previous managerial experience?
Question and Answer Examples
Below are common questions with example answers. Learn what is often asked by Pizza Hut hiring staff and have answers in mind before the interview begins.
Questions for Team Member Applicants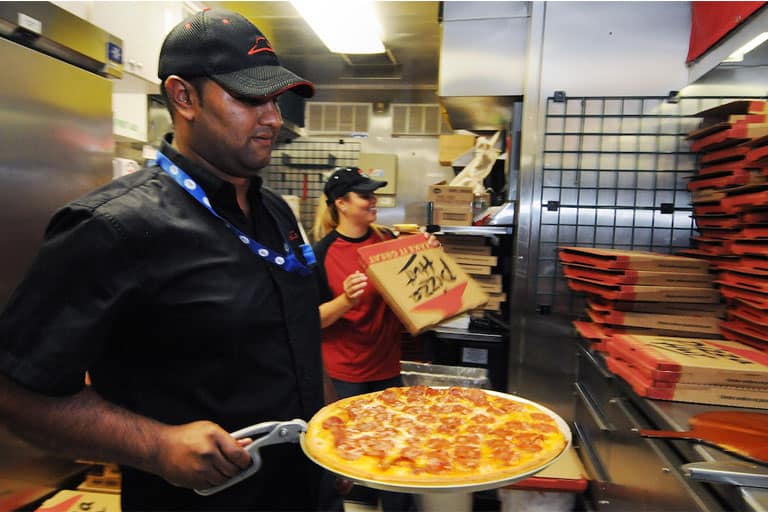 Question: Why would you like to work at Pizza Hut?
Answer: The reason I would like to work at Pizza Hut is that it is a successful business with top quality products. I enjoy working with the public and I like the food industry.
Question: What talents do you bring to the table?
Answer: I am a team player who works well with others. Also, I take personal responsibility for my job. Cooking is something I enjoy and I have a good knowledge of Pizza Hut's toppings and sides.
Question: What do you expect from this job?
Answer: I know that this is a position in which I will work directly with the public on a fast-paced team. Every day involves customer service, food prep, and cleaning.
Questions for Delivery Applicants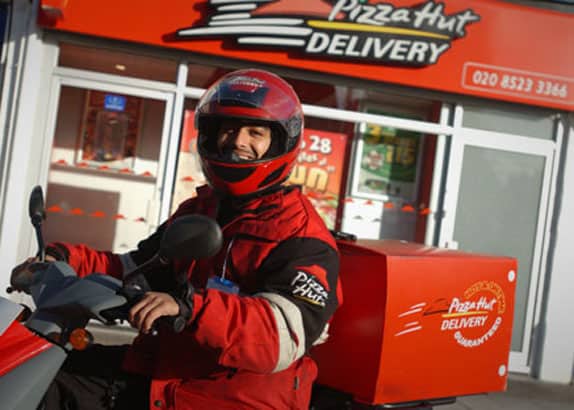 Question: Do you have any accidents or violations on your driving record?
Answer: There is one minor ticket for 10 miles over in a 40 mph speed zone. The ticket was paid and I have had no trouble since then.
Question: Do you feel comfortable keeping cash on you during deliveries?
Answer: Yes. I can quickly make change and reliably get payments back to the store.
Question: How do you see friendliness playing into this job?
Answer: Having a friendly attitude gives the customer a sense of satisfaction and invites future business.
Questions for Management Applicants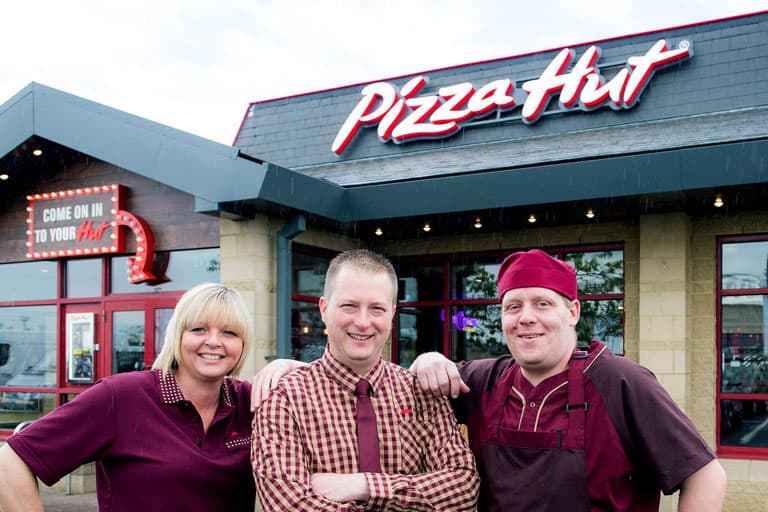 Question: Can you tell me about your prior management experience?
Answer: I was a shift leader at a local restaurant for two years. I did scheduling and handled some of our most busy times.
Question: Are you able to commit to opening and closing at least twice weekly?
Answer: That is not a problem. I understand that leadership means working early and staying late.
Question: Do you hope to work your way up in the Pizza Hut organization?
Answer: Yes, I hope to continue building my career here. As I get the training, I would like to move into store management and even look for upper management positions down the road.
Interview Tips
Now that you have done your company research and have gotten an idea of the questions you might be asked, here are some tips to prepare you for how to go about the interview. Keep in mind, you are trying to present things about yourself that will make the interviewing personnel see you as an asset.
Recent studies revealed that hiring managers decide about the interviewee within the first 20 seconds. So, come composed, dressed appropriately, and prepared for the questions.
Composure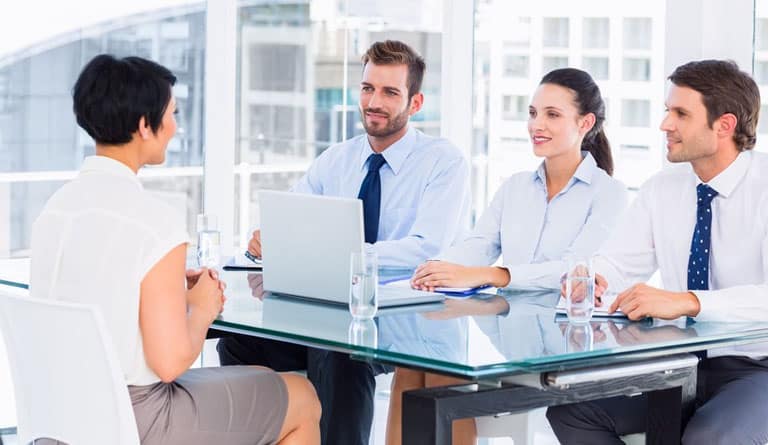 Part of your composure is making sure you have managed the basics of hygiene and appearance:
Be on time (arrive 15 minutes early)
Brush your teeth
Brush your hair
Shower the day of the interview
Give a firm handshake
Wear deodorant
Lightly apply colognes or perfumes
Practice good body language skills. Use appropriate eye contact, smile, and exhibit good posture. Actively listen to the manager while you are being spoken to. Avoid off-putting body language and behavior. During the interview, don't:
Stare into the distance
Shift or fidget in your chair
Adjust your clothes or hair
Fidget with paperwork or writing instruments
Chew gum
Mutter
Appropriate Interview Attire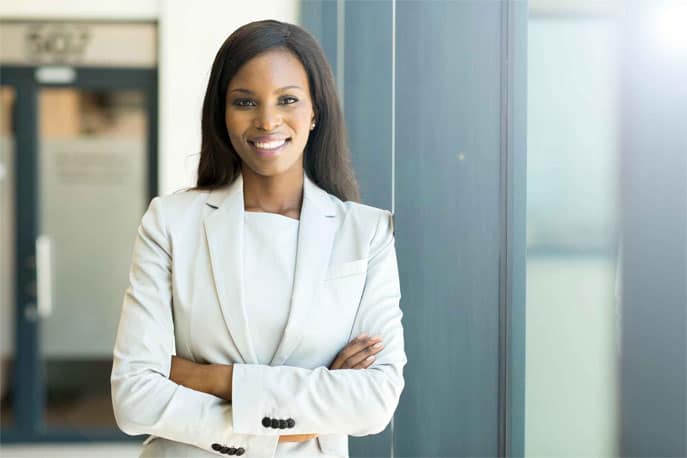 What you wear says a great deal about you. This ties into your composure. Come to the interview dressed modestly and professionally. Coordinate your clothing and be sure it fits well. Don't wear clothes that are too baggy or too tight. Keep the color schemes low key—don't wear clothes that are overly colorful or flashy. Avoid all clothing with signs of wear like tears, holes, fading, and fraying.
A good rule of thumb is to use business casual as a baseline for your outfit. Even if the job you are seeking is an entry-level position, this is a good place to start. If you are pursuing a management position, semi-formal is the best bet. For ladies that means professional dresses, business tops, and skirts. Men should wear dress shirts with ties, a jacket, slacks, or other semi-formal clothing.
Rehearse for the Interview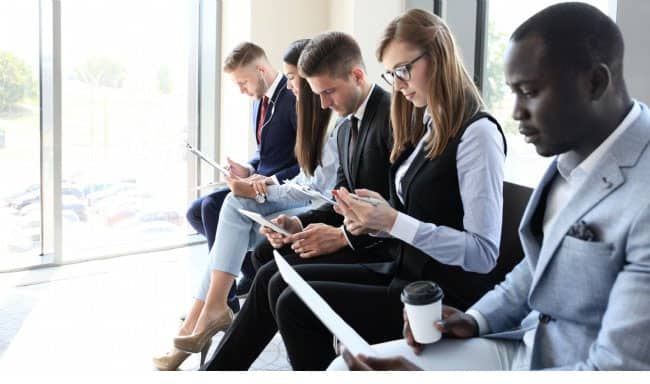 Get straight in your head what you will say by reviewing common questions and answers in advance. If you stumble over the questions or look lost, this will not do you any favors. You will look unprepared and unable to think on your feet. You may even enlist the help of a friend or family member by giving them a list of the common interview questions to ask you. Encourage them to improvise a few questions to help prepare you for quick thinking.
Come in with prepared statements about your abilities and skills. Be prepared to talk about your plans and goals. Pizza Hut employers will want to know more about how you can positively contribute to their business.
Rehearse your responses so that they are delivered with confidence and authenticity. Keep your focus on those things that outline your fit and experience. Have good examples of your personal successes and accomplishments ready in your head. Remember highlights from any prior employment and training. Don't get derailed by speaking badly about your former employer or experiences as this will only hurt you. Be ready to show the employer how you can take your talents to the next level and move up in the Pizza Hut organization. Managers are more likely to take on an applicant who will be around for a while.
What Is The Interview Process Like At Pizza Hut?
The interview process starts with a phone interview. You will be asked a few questions to see if you are qualified for the position. If you pass the phone interview, they will schedule an in-person interview with you.
The in-person interviews usually consist of three rounds: General Interview Round, Group Interview Round and Final Interview Round.
The general interview round consists of questions like "What are your strengths and weaknesses?" and "Why do you want to work at Pizza Hut?" The group interviews consist of taking turns answering questions from a panel of people.
Finally, the final round is just one-on-one with the hiring manager or supervisor. And you'll significantly increase your job interview success rate by going through this article on interview answers and questions.
Conclusion
Pizza Hut is a world-leading pizzeria that is looking to bring on promising new hires. Whether you are hoping to be a team member, delivery driver, an assistant manager, or a manager, this is a company on the rise. Work out your jitters in advance and come in prepared and presentable. Answer in a confident and assertive manner. Once you have mastered these key details, you can go into any Pizza Hut interview with a great chance of success.